In movies, there's often a theme whereby two characters, dissimilar at the start, undergo a challenge and, at the end, form a bond that we detect in a knowing nod or a wink of the eye that says, "I've got your back." Think:
Mean Girls
,
The Breakfast Club
, or even
Bad Teacher
as prime examples of the above dynamic. And when you spend an hour-and-a-half each day stretching in 105 degree heat, you sometimes pass the same glances with your fellow yogis. Ergo, it's pretty hard to leave your studio, particularly the one in which you began your practice. But, while I have no reason to leave my Virginia studio to begin with (there's a studio in Connecticut which I'd love to part with), they've moved a bit up the road and, paired with a new work schedule, I've had to rely on some local gyms to fill the void on days I can't make the trek across my small county. Luckily for me, my bougie neighborhood continues to have a series of trendy gyms move in, providing me with access to a
CorePower
,
Pure Barre
and
Orange Theory
studio, all within walking distance. Even more fortunate, as I really shouldn't be living/paying rent in a bougie neighborhood to begin with, each studio (with the exception One- think "O") provides a free week in which I can sweat without cost. Ergo, I was able to try each gym for a bit and can offer some pros and cons to those actually able to afford a membership.
Enjoy!
How can you not love this ending?
CorePower Yoga
CorePower Yoga
was my first stop. In a sense, I was likely trying to remain with the yoga theme when I couldn't attempt my preferred brand of yoga. The studio offers a free week (of unlimited classes) and doesn't take your credit card during this time. While my schedule seemed to allow for me to attend only one "brand" of class (yoga sculpt), the gym seems to offer a variety of classes including yoga derived from both the vinyasa and Bikram models as well as your more traditional classes built on cardio (yoga sculpt).
The facilities at the gym are pimp as shit, some of the more bougie elements include (but are not limited to)...
1.
A small boutique of yoga clothing
which carries brands such as
Alo Yoga
,
Lululemon
and, my favorite,
Spiritual Gangster
. They even sell Buddhist beads and offer complementary tea which comes in great during teacher training (more on that later).
2.
Nice showers
. After showering in many Bikram studios over the years (where most money seems to go into heating the hot room) it's nice to finally shower in a facility which treats you like a human. And not just any human... a human that lives in Arlington! When there's a
Whole Foods
next door, you pretty much have to keep pace with the neighborhood and
CorePower
definitely delivers with its clean showers offering soap, shampoo and conditioner and sinks with mouthwash and whatever else girls use to its side.
(Pro-tip: Check the signs on the locker rooms so you don't change in the wrong one.)
So, overall,
CorePower
provides and array of strong yoga classes in a spa-like studio. I give it two snaps and a (spinal) twist.
Give it a little snnnnnappy.
Orange Theory
Orange Theory was next on the list, offering an array of classes throughout the day because, what's a bougie neighborhood without people working from home? As far as I can tell,
Orange Theory
does not advertise the type of class they provide in each time slot but the one I attended was great! Having fallen off the runner's wagon but attempting to get back on (being the free alternative that it is) it was great to get a workout which combined elements of running, rowing and lifting into a nice, neat hour. There's a whole theory (surprise) behind
Orange Theory
but, from what I could tell, they seemed to calibrate the timing of each circuit above so that it's not overly intense while still providing a strong workout (I believe I took the tornado training). A few pros and cons exist below.
1. As stated above, you'll get a good workout, leaving you a bit sore and a lot hungry.
The workout sufficiently combined elements of both cardio and weights
to really work your entire body.
2. The
instructors are as good as the workout
. Granted my evaluation encompasses a one off experience but my instructor was informative [and] enthusiastic... a pretty potent combo for helping you keep morale as high as your heart rate (fun fact: you wear a heart rate monitor so don't wear one of those small sports bras where it can slip out - happened to a friend).
3. Unlike
CorePower
,
Orange Theory
attracts members of the opposite sex
. And I believe mixing genders in a workout can be fun, not so much for the social aspect, but because each group brings their unique energy to a workout. Plus, seeing Johnny with the big weights gives you some inspo. when the workout gets tough.
4. Anyone can correct me if I'm wrong but there
didn't seem to be a locker room
inside the studio. There were, however,
lockers with locks
.
(Pro tip: Don't forget your sneakers. It's not yoga.)
How I feel after a workout at Orange Theory
What I actually look like after the workout.
Pure Barre
Rounding out the bougie triumvirate is
Pure Barre
which, rightfully so, appeals to the small ballerina who remains perpetually young in the Neverland of our bodies. Even as someone reserved about participating in feminine activities, I couldn't resist the notion of barre work (plus they give you a free week). However, just as "feminine" and "pretty" are no longer synonymous, Pure Barre has taken a cue from today's modern woman and pairs the historically feminine with the tough (which pretty much means they offer a course in ballet). And Pure Barre is truly a ballet class which, like our bodies, is no longer built for a small child and offers the basic fundamentals of the sport. This means no leaps through the air or "pretty arms" done against the background of Bette Midler's
Wind Beneath My Wings
. It is a
tough
workout
.
To some extent, I'd be at a loss to explain how someone who attends more than two classes at
Pure Barre
would leave with anything less than a twelve-pack. The workout seems to be divided into two parts: ab and seat work... which, may be the same workout which kicks off the day of an average ballerina. As a more foundational workout in the realm of ballet, the intermediate class (as well as the beginner and advanced class, I assume) works those foundational parts of our bodies later needed to perform all those fun stunts we once tried out as a child. This means it will
kick your ass and abs
but will eventually leave you learning for a more full body workout.
If you sign up for a free week, they will find you... and they will try to sign you up for a membership.
At
Pure Barre
, the
teachers seem to really know what they're talking about
but (in my experience)
seem to carry the same strictness of a classical ballet teacher
, replete with a neatly tied up bun. In this sense, that feel-good participation you might feel in yoga or the endorphin rush of an
Orange Theory
workout might be replaced by some trepidation as though you were actually a youth in ballet. S'all good though.
One con...
they will track you down after class
. If you do sign up for a free week, they'll want membership and they'll try to get it through email and they'll try to get it through text. It's a little odd having a fitness instructor text you after class but it does make you feel (however falsely) that you kicked ass an they want you back.
(Pro tip: Wear an old shirt and baggy shorts which elicit odd stares from the Lulu-clad crowd and then confirm nice clothes won't help you do squat(s).)
So, my friends, if I could get a drrrrrrruuuummmmm rrrrrrroooooooooolllllllllll....
The winner is...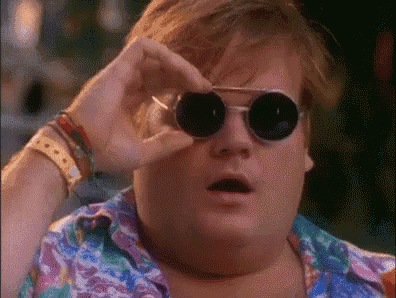 CorePower Yoga: Mostly because I love yoga but more due to their combination of a variety of classes, peeeemp facilities and awesome, little boutique. Plus, I might be teaching there soon!